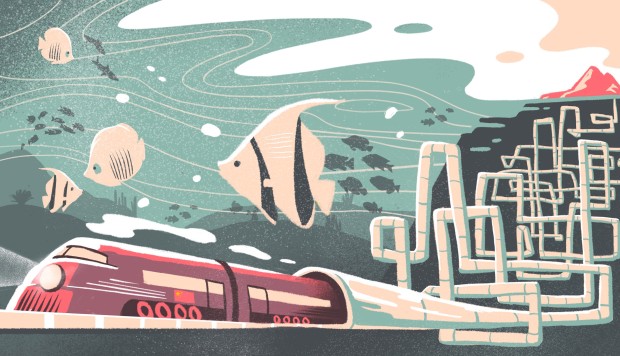 After years of debate, Chinese scientists are close to a consensus on the design for what would be the world's longest undersea railway tunnel, connecting the mainland to Taiwan.
If realised, shuttle trains could be whizzing through a 135 kilometre (84 mile) undersea section of the tunnel at up to 250km per hour by 2030.
The ambitious undertaking would include a multi-billion-yuan engineering and technical "warm-up" project, according to plans the scientists have sent the Chinese government, the South China Morning Post has learned.
China's new J-16 fighter jet 'targeting Taiwan' may soon be combat ready
Despite this technological progress, rising political tensions between the self-ruled island and Beijing, which regards it as a renegade province, mean that the scheme is unlikely to come to fruition any time soon.
However, some researchers said it was possible that Beijing would start work on the project in a unilateral, and largely symbolic move.
Politics aside, surmounting the project's technical tests would be a huge coup for China's scientific, engineering and construction corps, analysts said.
"It will be one of the largest and most challenging civil engineering projects in the 21st century," said a government scientist who asked not to be named because of the project's sensitivity.
The tunnel's design, completed last year with funding from the Chinese Academy of Engineering, the largest central governmental advisory body on infrastructural construction, has the growing support of both China's research community and tunnelling industry, several senior civil engineering experts have told the Post.
The idea of a mainland-Taiwan tunnel had been kicking around for nearly a century. It achieved new prominence in 2016, when Beijing included a cross-strait high-speed rail network in its then-new five-year plan.
But it was only recently that scientists and engineers figured out how to build it.
In the latest plan, the tunnel would be several kilometres longer than envisaged in 2016.
Starting from Pingtan, a pilot free-trade zone area set up by Beijing in Fujian province in 2013 to boost trade with Taiwan, it would dive nearly 200 metres, cut through complex layers of rock, including extremely hard granite, dodge at least two major earthquake faults and return to the surface in Hsinchu, a coastal city near Taipei.
It would be three and a half times longer than what is currently the world's longest undersea rail tunnel – the 37.9km Channel Tunnel between Britain and France.
The Channel Tunnel – nicknamed the "Chunnel" – took six years to build and cost the equivalent of 12 billion euros (US$13.99 billion) today.
Upon its completion in 1994, the American Society of Civil Engineers dubbed the massive piece of infrastructure one of the modern world's seven wonders.
China's project would be laid out in similar fashion to the Channel Tunnel, consisting of a complex of three individual tunnels.
Two main passages would be used by trains running in opposite directions. In between them would be a smaller service tunnel that would contain power lines, communication cables and emergency exits.
The Chinese project, however, would separate itself from the pack – and the Channel Tunnel – with the breadth of its main tunnels. They would be nearly a third larger than their European counterparts, extending 10 metres in diameter.
Their broader design would allow trains to travel faster and carry bulkier cargos than the Channel Tunnel, which limits train speeds to 160km per hour.
A potential thorny aspect of the scientists' plan is that it would be necessary to create a pair of artificial islands in the middle of the strait for an air treatment station that would pipe fresh air into the tunnel.
That requirement might further inflame rising tensions between Beijing and the self-ruled island.
Ever since the two sides split in 1949 after a civil war, China has seen self-ruled Taiwan as part of its territory to be reunified, by force if necessary; the island sees itself as a sovereign country.
What would the US do if Beijing decided to take Taiwan by force?
Since Taiwan's leader, Tsai Ing-wen, took office two years ago, China has stepped up its diplomatic and military pressure on Taiwan, as Tsai's government refuses to acknowledge that the island is part of "one China" and many islanders are not keen on reuniting with the mainland.
"Starting construction without reaching an agreement with the other side will fuel anti-China sentiments on the island," warned Zhao Jian, a Beijing Jiaotong University economics professor who has extensively researched the economic performance of China's major transport projects, including high-speed railways.
"It will push them further away instead of drawing them closer to us."
Zhu Hehua, head of tunnelling and underground structure research at Tongji University in Shanghai, said starting work on the strait tunnel on the mainland would likely be a symbolic "one-sided" move to signal Beijing's determination to achieve unification with Taiwan.
"It will not wait until complete unification," he said. "That will take too long."
Given the political climate, the project "may look as distant as going to the moon", Zhu said. However, he predicted the tunnel dream would "eventually come true".
Further complicating construction would be the strait's heavy use as an international shipping route.
Beijing won't admit it, but Taiwanese society is drifting away
The latest plan has had a long genesis with Chinese researchers and government representatives meeting more than 10 times during the 1990s, producing numerous proposals.
In 2005, the central government released a long-term plan for the development of a national transport network that included building a roadway or a railway to Taiwan within three decades.
As the relationship between Taipei and Beijing deteriorated, however, the proposed transport system seemed a one-sided wish.
Nevertheless, hopes on the mainland that the two parties could resolve their differences kept the dream of completing the tunnel alive.
The Post has learned that a research team has been at work off the coast of Pingtan conducting geological mapping, drilling for rock samples, running computer simulations and analysing the potential environmental risks and impact of a large-scale tunnelling project.
The work by geologists and engineers from Fujian Communications Planning and Design Institute and China Communications Construction Co is part of a 26 million yuan feasibility assessment for building a road tunnel from Pingtan to Fuqing, a county-level city in Fuzhou.
A county official, who declined to give his name because he was not authorised to discuss the project with the media, confirmed those facts for the Post.
The team's findings are to be submitted to the government next year.
China angry over Taiwanese flag being flown by firm in Vietnam
The proposed 12-billion-yuan Pingtan-Fuqing passageway, running more than 11 kilometres under the seabed, would beat the Tokyo Bay Aqua Line as the world's longest undersea road tunnel.
Sufficiently broad to allow three heavy cargo trucks to drive side by side in each direction, it would transform Pingtan into a new frontier of economic development in Southeast China, the county official said.
But its greater value would be in paving the way for the official launch of the far more ambitious and challenging cross-strait tunnelling project.
Zhu, the Tongji University tunnelling expert, acknowledged that the Pingtan-Fuqing road tunnel would be a warm-up exercise for the construction of the rail tunnel from Pingtan to Hsinchu, Taiwan.
The shorter tunnel would be located in roughly the same area as the rail tunnel and require engineers to figure out how to solve similar geological and technical problems, he said.
"Fundamentally speaking, the challenge is the same," Zhu said.
Although the five-year plan issued by Beijing two years ago envisaged the cross-strait tunnel being finished by 2030, that estimate may have been optimistic.
Sun Jun, a senior expert on tunnel and underground building engineering at the Chinese Academy of Sciences, said work on the tunnel could take three decades to complete.
If the project were launched in 2020 with high-performance tunnel boring machines attacking it from both sides, it would be possible to finish construction by mid-century, he said.
But he cautioned that his estimate was based on the assumption that a pro-Beijing leader would come to power in Taiwan and negotiate an agreement to build the tunnel.
Are Taiwanese warming to mainland China?
Li Xinggao, a professor of civil engineering at Beijing Jiaotong University who has worked on numerous major tunnelling projects in China, said the Pingtan-Fuqing road tunnel would be a prelude to the launch of the strait crossing project.
"The 11km length is not short," he said. "It will allow us to prove and test some new technological and engineering methods" [that could be applied to the cross-strait project].
In addition to using boring machines that have been employed in extensive tunnelling projects such as the Channel Tunnel, China also is considering using drilling and blasting methods to build the Pingtan-Fuqing tunnel to lower costs and speed up the work.
If applying a trio of techniques to the project did actually save money and accelerate completion, the approach could be used to build the longer Pingtan-Hsinchu tunnel.
But the feasibility of using all three methods to build the Taiwan tunnel was unclear because of the complexity and unpredictability that multiple techniques would add to the process.
It was also uncertain whether a hybrid approach actually would be used to build the Pingtan-Fuqing tunnel project.
Although tackling the challenges of building the shorter tunnel "will provide valuable data", according to Li, the civil engineering professor at Beijing Jiaotong University, "the experience from one location cannot be automatically applied to another".
Zhao, the Beijing Jiaotong economics professor, said the Taiwan Strait tunnel project would become a financial sinkhole if it failed to attract users.
Taiwan's GDP ranked sixth among Chinese provinces last year, he said, pointing out that the island has suffered slow economic growth in recent years while some of the richest mainland provinces saw a boom.
Why there's no change in Beijing's bag of carrots and sticks on Taiwan
"There won't be many passengers or cargos for the train," Zhao said.
Convincing people to take the tunnel train could be challenging at first, since the Taiwanese who work or do business on the mainland mostly travel by plane to cities such as Shanghai, Kunshan and Nanjing, the professor said.
Moreover, the fare of freight locomotive though an undersea tunnel is likely to be higher than the cost of shipping goods. And while the tunnel train between mainland cities and Taiwan might be faster than a boat, it still would be slower than a plane.
Zhao criticised the plan to "warm up" for the Taiwan tunnel project by building a shorter Pingtan-Fuqing road tunnel as lacking in economic sense.
A tiny island with only half a million residents, Pingtan already has two large bridges linking it to the mainland, one capable of running both train and automobiles, he said.
Although the Chinese government turned the island into a free-trade zone, "it has no need for a large undersea tunnel" six times as long as the Cross-Harbour Tunnel in Hong Kong, Zhao said.
"The trade war with the United States is giving China enormous pressure from the outside," he said. "The domestic environment also faces many challenges.
"It is no longer possible to stimulate economic growth with large scale investment in infrastructure projects."